To create a rifle for country music artist Toby Keith (gifted from the South Dakota Military Heritage Alliance, Inc.) was a creative collaboration we will remember for years to come.
---
COURTESY OF THE RED, WHITE AND BLUE: A PATRIOTIC RIFLE BUILT FOR TOBY KEITH

H-S Precision is proud to have our roots in the military. Tom Houghton Sr. was retired Army and a chemist, and when he combined his two passions – our company was conceived.
We have an incredible appreciation for the men and women who selflessly serve our nation and are a part of the U.S. Armed Forces: Army, Navy, Air Force, Marine Corps, Coast Guard and the newly formed Space Force. So, when the opportunity to create a one-of-a-kind rifle for music artist Toby Keith was presented, we couldn't say "no."
ABOUT THE ARTIST
Toby Keith is known for his patriotic songs including "American Soldier" and "Courtesy of the Red, White, and Blue (The Angry American)" which memorialized the 9/11 attacks and honors veterans. However, his ties to the military go deeper than the lyrics he sings about. Keith's father was a veteran who served in the Army, and throughout his personal life, Keith experienced the life of a military family – on the move and seeing a loved one be sent out on deployment numerous times.
To this day, Toby Keith is applauded for the time he takes to honor veterans around the country. Whether it be at live shows, through social media channels, or in writing – his appreciation for those who have served is continuous. In May 2021, Keith's "Country Comes to Town Tour" landed in Sioux Falls, South Dakota, and the opportunity for H-S Precision to participate in giving back to Keith was presented by a local non-profit: the South Dakota Military Heritage Alliance, Inc.
SOUTH DAKOTA MILITARY HERITAGE ALLIANCE, INC.
This 501(c)3 was organized exclusively for charitable and education purposes. They provide support services, encouragement, camaraderie, entertainment and esprit de corps for military veterans, active duty service members, actively-serving Reserve Component (i.e. Reserve and National Guard) service members, their families and all who support them, to preserve South Dakota and American military heritage, and to provide historic and current military educational opportunities to civilians of all ages.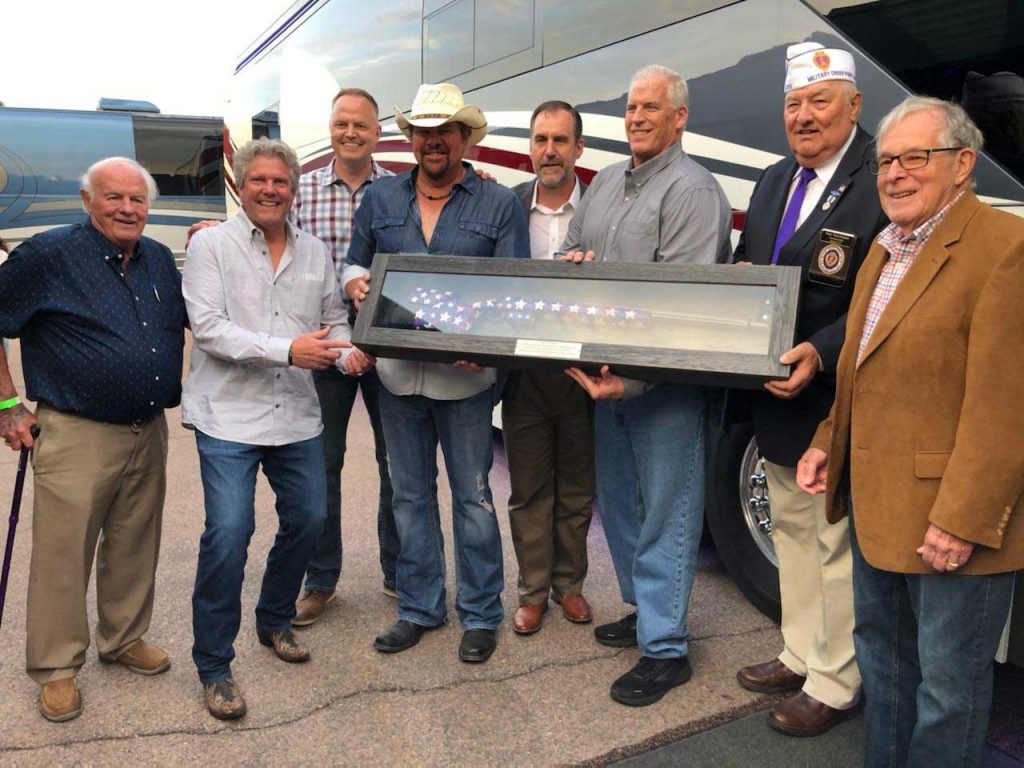 A PATRIOTIC RIFLE FOR TOBY KEITH
H-S Precision Pro-Series® Rifle
Selecting the Pro-Series® HTR was an easy decision when it came to choosing a rifle model from our lineup. The Heavy Tactical Rifle put H-S Precision on the map for our manufacturing capabilities in the 90's for the HTR's incredible accuracy and reliability.
H-S Precision Pro-Series® Stock Paint Pattern
The color palette was also a fairly easy decision to encompass a patriotic feel. The team chose red, white and blue and with some creative help from the plastics department supervisor and the painter, a star pattern was created.
"So often you see patriotic stocks painted in red and white stripes, but we really wanted this one to stand out," explained Jeremy Lewis, H-S Precision's Plastics Department Supervisor.
Jeremy laid out the stars by hand on a white stock and then relayed the stock and the accompanying pieces to painter Chris Lewis. Chris began with a solid blue base before exposing the white stars and adding the red webbing.
"I'm a sucker for anything Americana," said Chris. "It's always cool to be able to see an idea in your head come to life and turn out really well."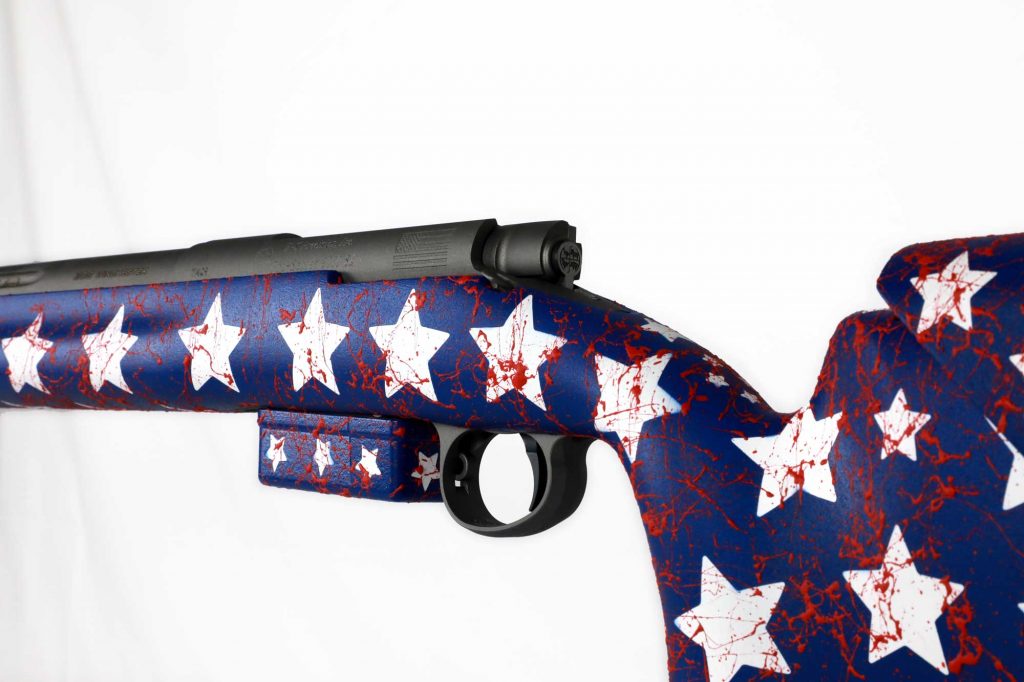 Engraving Special Elements
In addition to the patriotic-colored stock, the HTR included special laser engravings along the receiver, the barrel, and most notably – the flutes of the cut rifled stainless steel barrel.
The South Dakota Military Heritage Alliance, Inc. provided our team with the signatures of 50 South Dakota Purple Heart recipients – each as unique as the individual they belonged to. The signatures were then converted and engraved within the flutes of the barrel.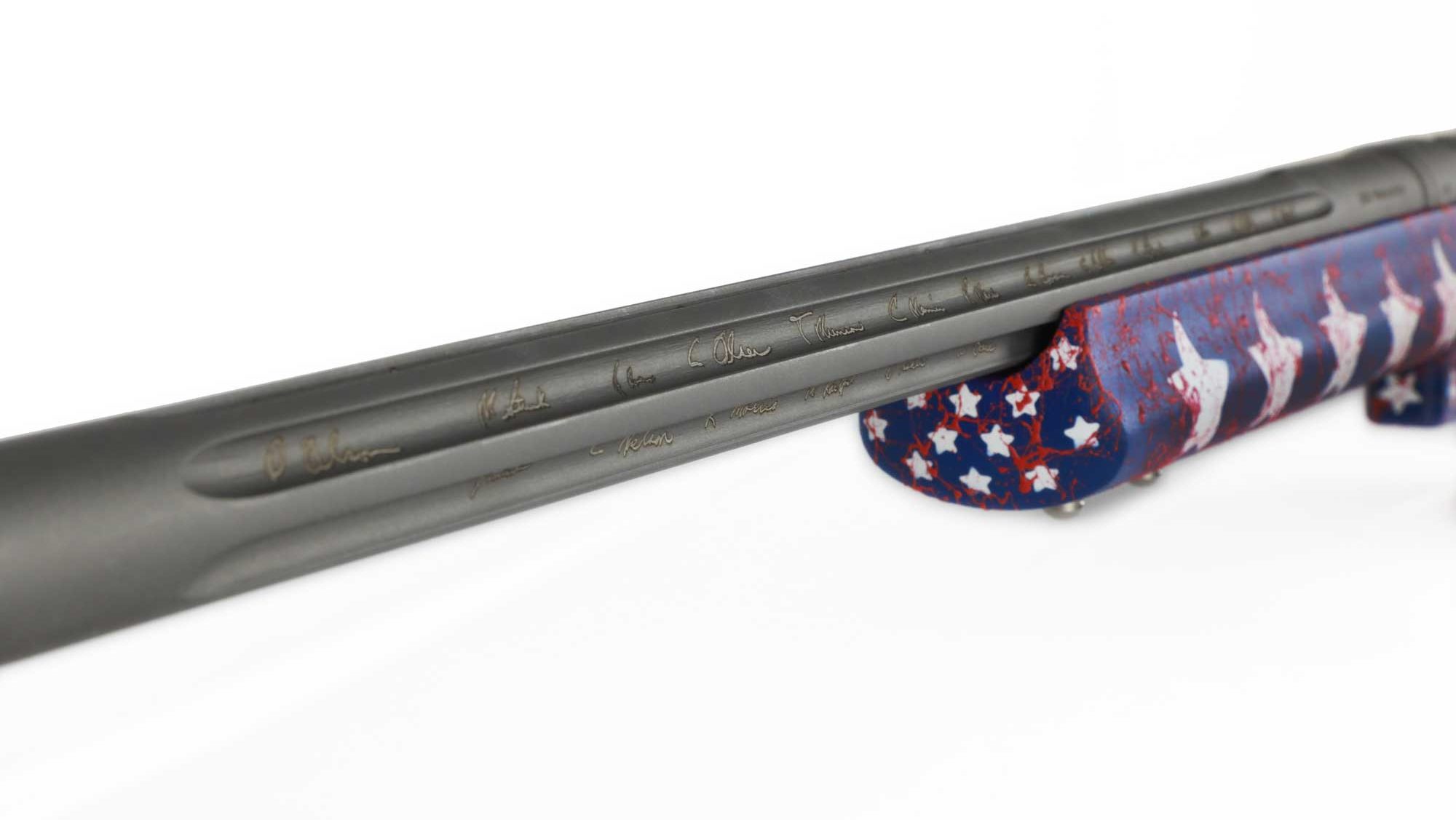 "We see unique engravings every so often, but this was pretty neat," said Rifle Shop Supervisor Glen Lundgren, who is a retired Army veteran himself. "It's awesome that this rifle was presented to Toby Keith, but we can do these types of things for anyone really. The capabilities we have at H-S are almost limitless."
After engraving the signatures, Lundgren was able to add his own creative contribution to the rifle and included the lyrics "Courtesy of the Red, White, and Blue" along the bottom of the barrel. He was also able to add an engraving of the South Dakota Military Heritage Alliance, Inc. logo and the Purple Heart icon to the build.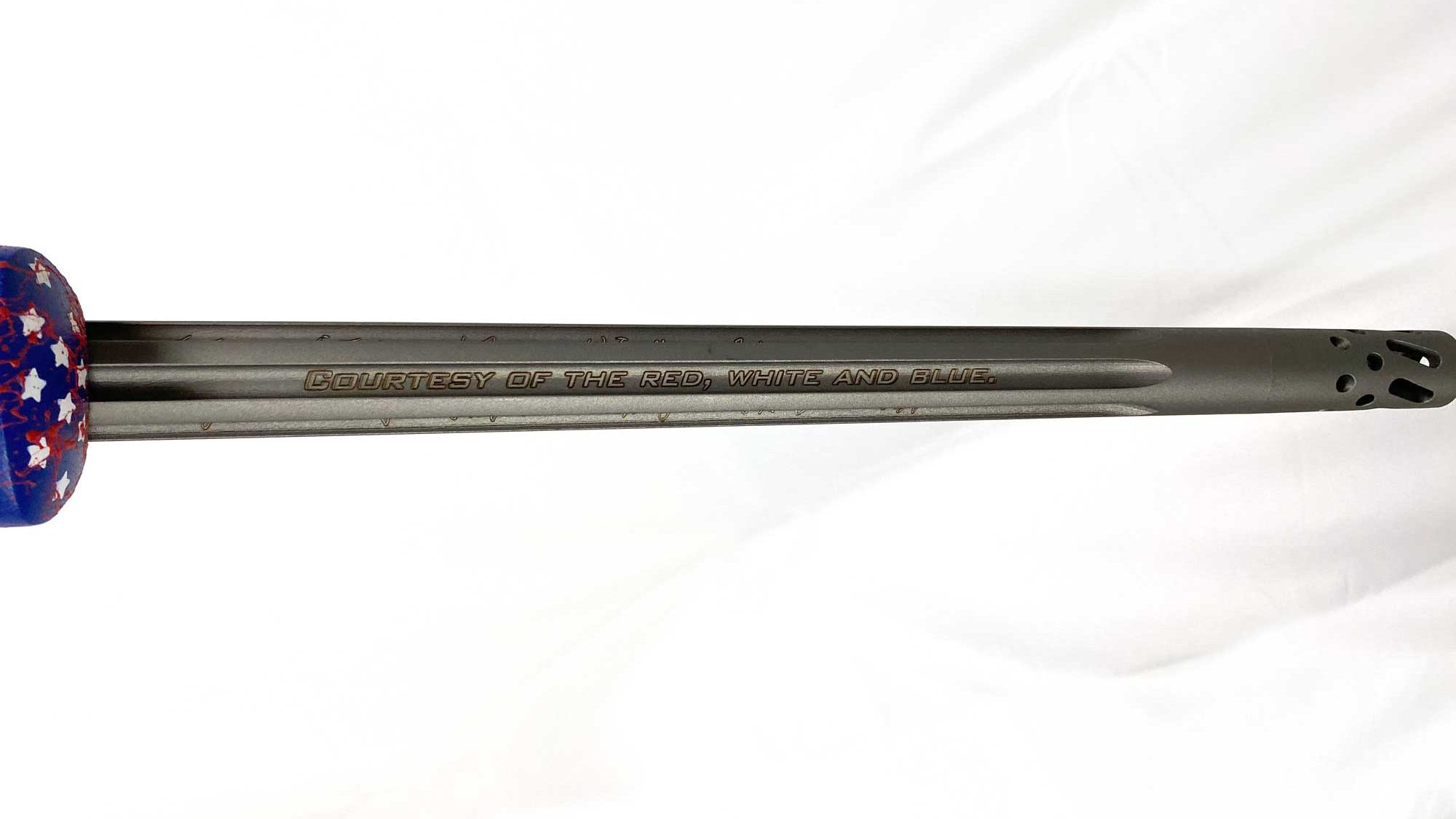 Not only was this rifle personal to so many of the H-S Precision team who worked on it, but it was also a build where creativity came to life. The core pillar of innovation is what began the success of our company and it is still what leads our work today.
From celebrity and professional builds to hunting rifles that will be passed along for generations, the chance to create a rifle that is uniquely yours is our pleasure.
THANK YOU
We want to give a special thanks to Stacy Kooistra in organizing the contribution to Toby Keith for his work with veterans and including H-S Precision. We also want to thank the men, women and families who have served freely in order for our country to be free. You are our heroes – today and forever.
MAY 2021