Every year, our team at H-S Precision gets ready for one of our favorite events – an annual prairie dog hunt at Buffalo Butte Ranch located in the Golden Triangle of central South Dakota.
For three hunts spanning three days each, we load up our vehicles and hit the road to Gregory, SD. Although it's only a few hours from our headquarters in Rapid City, we are able to meet our customers from around the nation here at this annual event.
"We have been going to Buffalo Butte Ranch for our annual prairie dog shoot for over 10 years in a row," said Josh Cluff, Vice President of Sales and Marketing at H-S Precision. "This is a great venue to feature our long range rifles, and we love the personal interaction with our customers."
The H-S Precision Prairie Dog Hunt at Buffalo Butte Ranch is a limited capacity shooting event for customers. Attendees are able to enjoy the amenities this great venue has to offer – from home cooked meals to the amazing lodge, not to mention the long range steel course located right at the main lodge. Transportation from the lodge to the prairie dog towns is provided.
"It has been such a pleasure to get to know the sales team and owners of H-S over the years, as they are among the best in the industry," said Dillon Springer, an owner of Buffalo Butte Ranch. "Their knowledge of the craft and quality of each component – coupled with having top tier people to build them and answer their phones – only reinforces our ability to recommend their guns to our clients. They truly have set the bar high for gun companies."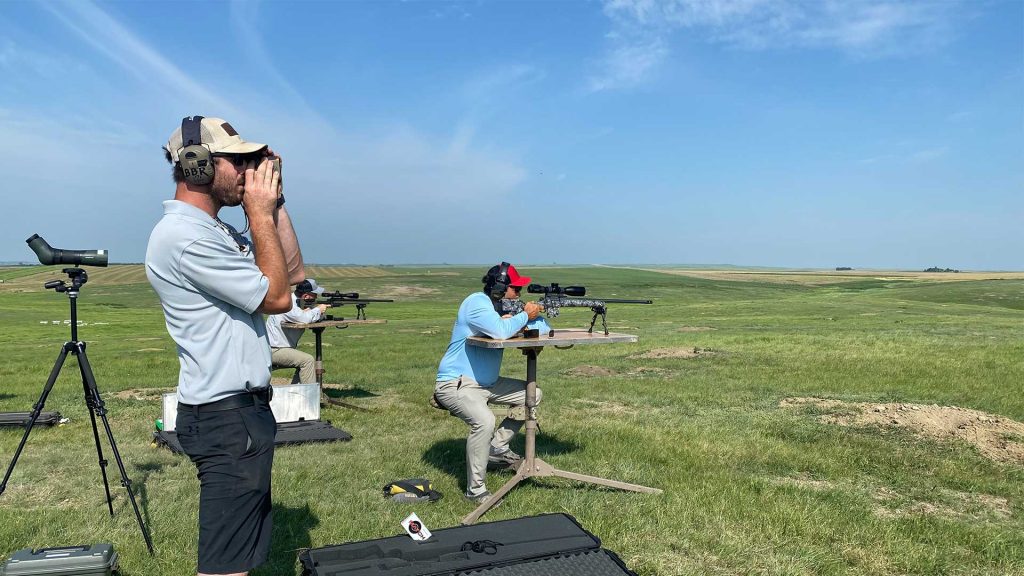 THE EVENT
The day begins with a homemade breakfast together at the main lodge while vehicles are getting loaded and ready for the hunt. Attendees split into personalized groups and are shuttled to nearby prairie dog towns. Our team brings rifles and ammo for customers to try while their own rifles are cooling down throughout the day.
"Our goal is to provide equipment and instruction, in a safe environment, so all guests not only enjoy themselves–but leave with knowledge that will help them be a more proficient long range enthusiast," said Cluff.
All of the hunting is on privately held land and shooters staying at Buffalo Butte Ranch are there exclusively. Top-of-the-line shooting benches and a variety of bags are provided for a one-of-a-kind experience. With a variety of terrain throughout the towns, the opportunity to test your marksmanship is second-to-none.
"Long range prairie dog shooting is a great way to refine your shooting skills," explained Cluff. "They offer a very small target; your dope has to be perfect, and your wind reading skills are truly tested."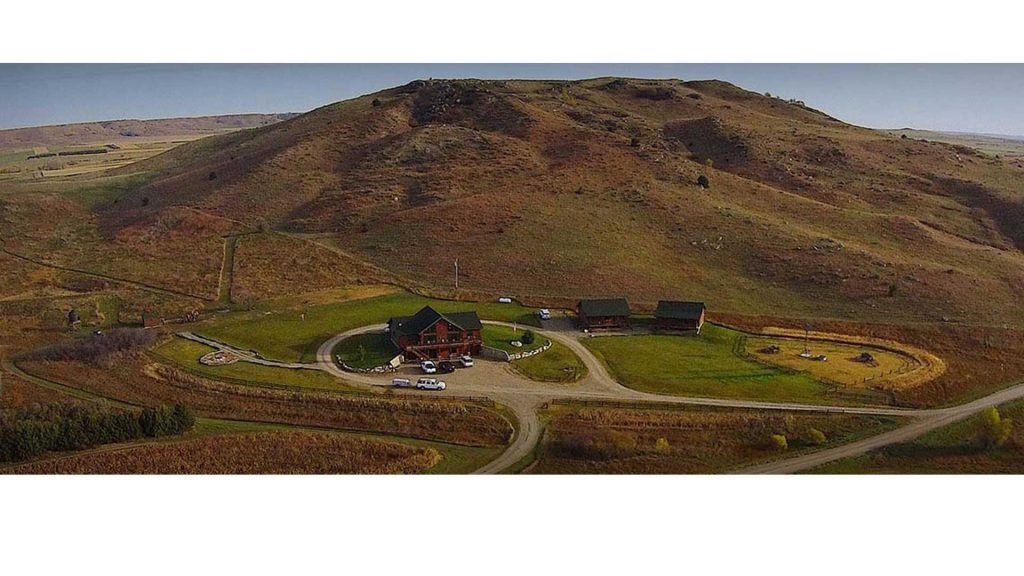 THE RANCH
Known for its pheasant hunting, Buffalo Butte Ranch is a fifth generation family-owned business that got its roots in the early 1900s as a working farm. The Springers began their hunting lodge in 2003 and maintain the 6,000-acre privately owned pheasant farm to this day with the help of their team.
The Ranch has three lodging venues, each within walking distance from each other and the shooting ranges. A 25-yard short range, a sight-in range, as well as a long range shooting platform are available to guests. Nothing beats a day of shooting prairie dogs and then loading up to head back to the lodge for a home cooked dinner and target shooting.
"The Springer family is an extension of our family, and their hospitality is unmatched," said Josh. "From the food to the lodging and staff, the Springers leave no leaf unturned and create an atmosphere in which all guests feel like they are at home."
The long range shooting platform is a prone position setup with a stable bench that looks down to multiple targets across the valley up to 1,776 yards away.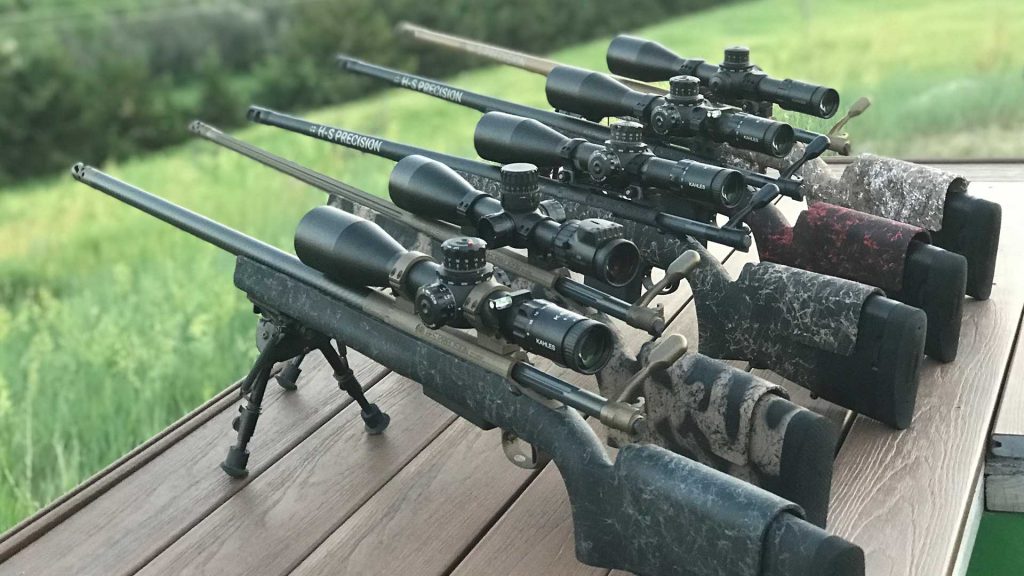 THE RIFLES
All of our Pro-Series® rifles feature our own proprietary stainless steel action, which often touted as one of the best in the industry. Our aluminum bedding blocks embedded into our composite stocks were some of the first on the market and our stainless steel cut-rifled barrels are world-renowned. So, to say we build rifles engineered for accuracy is a promise, not just a statement. There is not a firearm manufacturer in the world today that builds a more accurate and reliable rifle than the H-S Precision Pro-Series® lineup.
HTR: Heavy Tactical Precision Rifle
Chambered in 6.5 Creedmoor, 224 Valkyrie and 300 PRC for the Prairie Dog Hunt event
The HTR is the Pro-Series® heavy tactical rifle, and is one of our most configurable rifles. Originally designed for military and law enforcement applications, it has adapted into an elite competition platform for venues such as the NRL and PRS.
This rifle is available in almost all SAAMI caliber. Accessories and aesthetics are available to be customized.
PLC: Professional Long Range Carbon Fiber Hunting Rifle
Chambered in 6.5 PRC for the Prairie Dog Hunt event
The Pro-Series® PLC: Professional Long Range Carbon hunter is our first offer featuring a carbon fiber barrel and we couldn't be happier with the results. The PLC features our 10x cut-rifled stainless steel barrel core, wrapped in a carbon fiber process that utilizes substantially less resin than other manufacturers – allowing for extreme accuracy even during high volume strings.
PLR: Professional Long Range Hunting Rifle
Chambered in 6.5 PRC and 300 PRC for the Prairie Dog Hunt event
The Pro-Series® PLR is the ultimate long range hunting rifle designed to meet the needs of long range enthusiasts. With a hybrid barrel contour and custom configuration, this platform allows for maximum stability while being light enough to pack to the most remote locations.